Course details
【Weekday】 Limited to 5 pairs a day! With drinking ★ Spanish pork roses · Pork loin · Oyama chicken & several vegetables All-you-can-eat course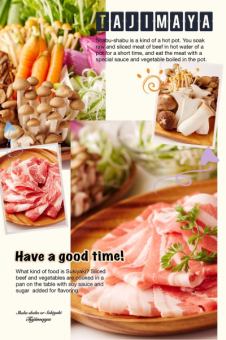 By using a coupon3200 yen
The price includes tax
All-you-can-drink available

120 minutes drunk drink
Available days for reservation

Monday - Friday
Offering quality meat "Spanish Pork Roses, Fried Pork Loose, Domestic Oyama Chicken" for 120 minutes all you can eat !! Tajimaya offers lunch, dinner together "Seasonal vegetables, several tasty bars, taste arrangement bar, soft Drink bar, 6 kinds of ice bars popular among women "are all you can do in the buffet form, so please use together here as well!
Course menu
Please select "two-color pot slices of shabu-shabu" or "thick acne"
Occasion Time Meat arrives 120 minutes * Meat and alcohol LO 100 minutes
All you can eat Meat "Spanish pork rose" "Sasara pork loin" "Domestic Oyama chicken"
In addition, "Several kinds of seasonal vegetables", "6 popular ice bars for women" "coffee and soft drinks after dinner, drink bar that can make float" "rice, curry"
"There are tens of kinds of condiments for arranging"
Please enjoy the exciting sense of the buffet style!
All-you-can-drink menu
·beer
- Sapporo black label student [Medium] / [Small]
·Highball
· Horn ball highway / Dewers Highball
·sour
· Lemon / lime / Calpis / giant peak / man plum / grapefruit / Okinawa pine
· Chu-hi
· Oolong Hi / Gyokuro Hi
·Cocktail
· Cassis / Lychee / Peach / Mango 7 / Yoghurt / Lamb / Gin each of the above single items menu
· Shochu · Sake
· 【Potato】 Spicy potato 【wheat】 Kaname 【Other】 Forge Tan 【Japanese sake】 White crane (No. 1)
·Fruit wine
· Plum wine / mature plum wine / luxurious yuzu sake
·wine
· Red · white (glass) / barrel filled sparkling wine
2019/01/16 update